BOOKINGPLAN : Increase Reservation Bookings Instantly!!
Introducing BOOKINGPLAN Booking Engine , the first Integrated Electronic Booking System for Accommodation - Hotels - Villas.

Using the Online Booking System You can multiply your interest and Clientele in your accommodation via the Internet, since the visitor to the site will be able to see in real time the availability and prices for each type or category of accommodation, to find useful information about the area to visit, and to pay online for their Reservation.
BOOKINGPLAN is made by "Hotel Consultants" where they specialize in providing integrated services for the proper operation and management of hotel units.

BOOKINPLAN Reservation System Offers an innovative Online Reservation System designed for every type of accommodation such as, Hotels - Apartments, Villas, Rooms to let, resort, city hotel, mountain resort, boutique hotel etc.
ΠΛΕΟΝΕΚΤΗΜΑΤΑ - ΧΑΡΑΚΤΗΡΙΣΤΙΚΑ ΤΟΥ ΣΥΣΤΗΜΑΤΟΣ ΚΡΑΤΗΣΕΩΝ BOOKINGPLAN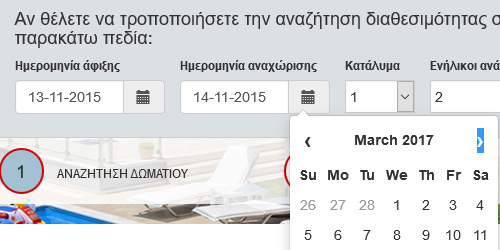 BOOKING CALENDAR
The Booking Process starts from the Accommodation Website that Bookinplan has formatted in a very handy way for the visitor to easily enter her Arrival and Departure Dates, people, and rooms she wants to book.
In the next step, the visitor is transferred to the BOOKINGPLAN Secure Booking System that uses "Secure Socket Layer" (SSL) 256 data encryption to select the Room Type that is readily available on the System.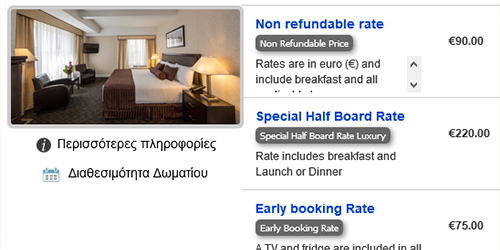 Room Types - Price Rate Plans
In the room view, BOOKINGPLAN gives us the available Room-by-Room Price Plans for the Dates we have selected.
Examples of room plans are 1) Non refundable rates 2) Bed and Breakfasts 3) Earling Booking Rates, Half board rates .....
After selecting his Room's pricing plan, the visitor can see in detail his choice to the right of the page as well as the description of the accommodation services with the Services in detail as well as Photos, Location (GOOGLE MAPS), Guest reviews.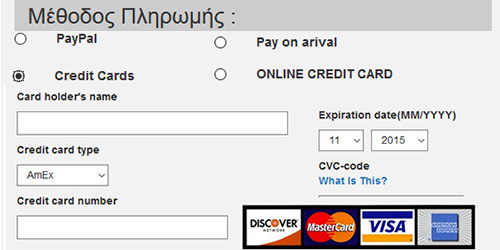 Online Payment Methods
The BOOKINGPLAN Online Booking Platform offers guests instant bookings and payments through their booking system with all Visa, MasterCard, AMEX credit card types.
BOOKINGPLAN has integrated the largest Online Payment Services such as (PayPal, etc.).
The Booking engine also supports the systems of all major Greek banks, Alpha Bank, Piraeus Bank, Eurobank.
The Hotel Administrator can allow guests who cannot pay by credit card the option to deposit via Deposit via the Platform's management.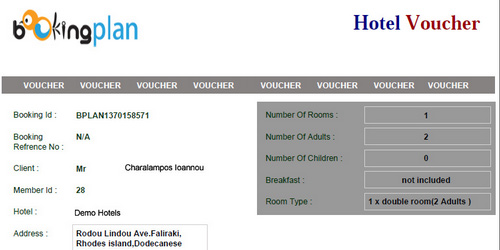 NOTIFICATIONS - BOOKING VOUCHER
BOOKINGPLAN's Online Booking Platform offers a complete Booking Management System.
Each Booking Completed by the Booking System automatically generates a Detailed VOUCHER for each customer who has the following information:
BOOKING ID - Reservation Number, Visitor Name, Hotel Code, Accommodation Name and Address. Reservation Dates (Arrival - Departure), Payment Method Completed, Other Accommodation Information (Email, Phone Numbers, url (Cancellations, check in, check out) Accommodation services
Personal Account - Information about the visitor's login to their account to receive information about their reservation.
MANAGEMENT ENVIRONMENT( CONTROL PANEL )

BOOKINGPLAN booking system has a fully automated Accommodation management that even a single user can manage.
Please see some of the features offered by the system.
Each accommodation has the following Features:
Full Details of Room Types with Detailed Description and Photos.
Unlimited rate plans and room types (with photo and description)
GOOGLE MAP.
Introduction of Hotel and Room Services.
Enter the number of rooms available before booking.
Selection of Specific Periods (Low - Medium High Season) before booking.
Add Price per day at the property.
Special Offers (Discounts) by period and by type of accommodation.
Availability Table by Accommodation Type
Stop Sales System for certain periods that determines each accommodation.
Detailed and Easy Management - Search for Hotel Reservations with Active and Complete Reservations.
Stop Sales System for certain areas that determines each accommodation if it is overbooking.
Multilingual system.
Payment Gateways. Determination of Payment Methods by Accommodation (Paypal, Online Credit card, Bank Tranfer ....)
Bookingplan integration in your Hotel website in 24 hours.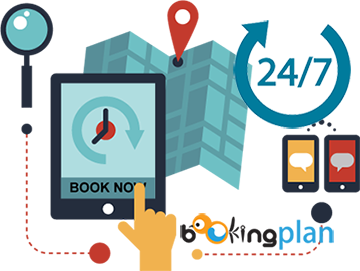 BOOKINGPLAN Online Booking System may be integrade on existing hotel web sites with any Technology developed by us or from any other Website Designer.
The Reservation Platform is hosted on our company's secure server with the most stringent security protocol, and our technicians are responsible for maintaining and upgrading the system.
Once the necessary settings are made (price lists, photos, offers, room plans, online payment methods) we will perform the first tests and within 24 hours the booking application will be completed.
24x7 Care Support & Help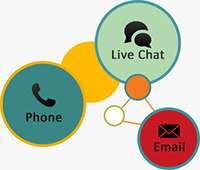 The technical support department is always waiting to resolve any problem or technical assistance in using our services
30 DAY DEMO TEST

You can now try the system Completely Free for 30 Days without any Commitment from you. You will be able to use and test all the features of our system.
VIEW THE BOOKING SYSTEM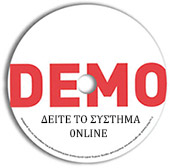 You can see the BOOKINGPLAN ONLINE Booking System in full.
Contact us for a personal presentation from our company.